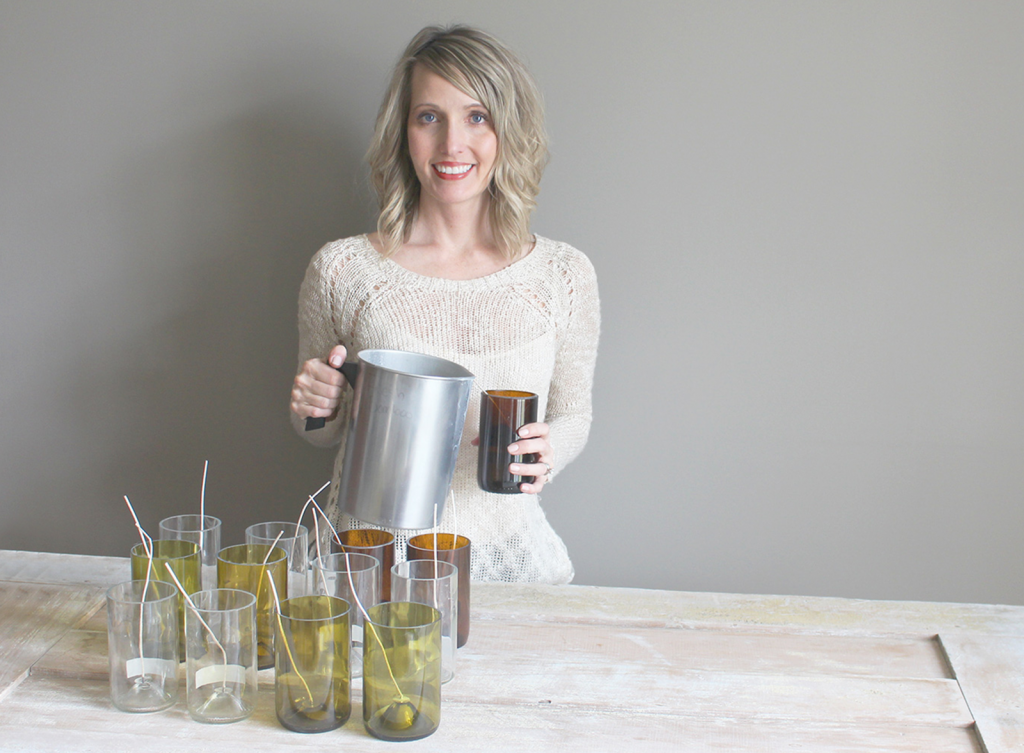 What do you get with a creative mom and a great looking 'empty' bottle of wine?
Furbish & Fire Candle Co.!
Like many women, Michelle left the corporate world to stay home and raise her young children. As she prepared to send her baby off to kindergarten, she began to wonder, "What's next?" With a strong circle of friends, a very supportive husband, and a desire to create a beautiful and sustainable product for the home, she hatched a plan.
Started in 2015, Furbish and Fire Candle Co. is an expression of Michelle's creative spirit that has taken on a life of its own with each personalized design. The design library has grown and continues to take shape with each new order, taking a little from each new personalization to create designs that are on point with the themes that are in our customers' hearts and minds. In addition to creating a product that is truly a collaboration with her customers, Michelle works hard to use high-quality, sustainable ingredients that leave our world a little better for our children.
Re-"Furbishing" with You in Mind
Our journey began as a casual idea while enjoying a glass of wine among friends, and was quickly brought to life by owner, Michelle Liller, with handcrafted candles that included fun, personalized labels. The goal was to produce a high-quality, small-production, handcrafted line of candles that were also safe and environmentally friendly. After an overwhelming customer response, the product line was further expanded to include endless personalization options.
Based in Avon Lake, OH, Furbish & Fire Candle Co. sources all of its recycled containers locally. We have collaborated with several local establishments to re-purpose their empty wine bottles into something wine drinkers can appreciate again. This re-"furbishing" of bottles helped to inspire our name and fuel the passion that goes into every finished product.
Each of our small batches is produced the artisanal way, just like the wine from which we recycle our bottles, with love and attention poured into each candle we make. We strive for supreme quality while remaining environmentally conscious. Our wine bottle candles are all hand-cut and polished, and all of our candles are hand-poured with all-natural soy wax, use lead-free, cotton wicks, and include premium, phthalate-free fragrances. You can learn more about our process by taking our candle-making tour, here.
We hope you enjoy our candles, and please, don't forget to recycle your bottles and jars when you have finished enjoying them!
Michelle
Michelle brings her business and creative backgrounds to Furbish & Fire as both the founding designer and business manager. When she's not labeling the newest batch of personalized designs, Michelle enjoys sharing things that inspire her and experimenting with DIY to create beautiful and useful things for others to love.
The Girls
Michelle's daughters ("the girls") are the heart of Furbish & Fire. The business was born as a way for Michelle to be there for her girls while still engaging her creativity and demonstrating the benefits of small, women-owned business. The girls influence everything about Furbish & Fire, from the decision to use safe, natural ingredients, to the mission of using sustainable materials that will leave their world a better place.
Jen & Valerie
Jen and Valerie bring a high level of enthusiasm, trust and determination to make this business a success. Jen has dug her heels into the day-to-day candle production and Valerie has worked hard to build relationships with our retailers. They not only keep the business running but also put the "fire" behind Furbish & Fire.