Your child's teacher is one of their most important early role models. In a truly great teacher's classroom, children learn their A-B-Cs and 1-2-3s along with kindness, compassion, discipline, and courage.
If this sounds like the person educating your child, Furbish & Fire has a one-of-a-kind way to say "thanks for all you do." Our teacher candle collection celebrates the all qualities of a great teacher – from recognizing her kindness to celebrating how he makes learning cool. Order today to have your candle ready in time for the class holiday party and save 15% on your entire purchase* when you buy one or more candles from our Teacher Appreciation candle collection. Use promo code TEACHER2016 at check out before December 9 and surprise your child's teacher with a gift they're sure to love.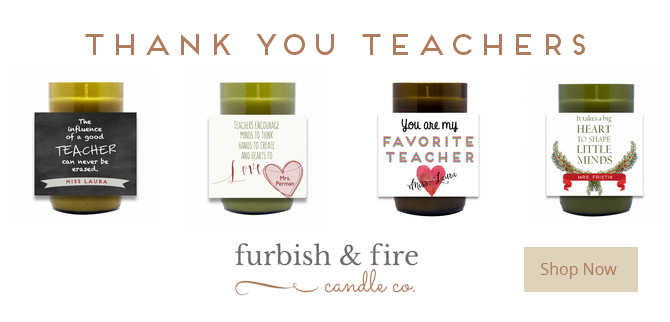 * This offer not valid with any other offer or fundraising promotion. Coupon code must be redeemed by December 9, 2016. Order must include at least one candle from the Teacher Appreciation category to receive discount.